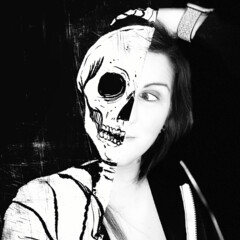 Colleen Palmer
Comic Artist/Writer // Illustrator
Salt Lake City, United States
About
Whether it's working with small-press publishers or self-publishing with the help of crowdsource platforms like Kickstarter, I'm always happiest when making stories come to life with art.
My first graphic novel CROW AND THE ETERNAL NIGHT was published in August 2021 through the help of Kickstarter backers. Previously, I co-created the one-shot comic FRACTURED, wrote the short horror story A WOMAN THROUGH THE KEYHOLE, and since have had opportunities to work on variant covers for other comic writers and publishers.
Currently I'm working on CROW AND THE VENGEFUL LIGHT, a follow-up book to my first graphic novel; a series called NOD with Ludie Sexton; and other projects yet to be announced. Have something in mind that'd fit my style? Reach out and let's chat!
Genres I love working in:
- Horror (Creature/Myth/Folklore)
- Dark fantasy
Genres I enjoy and want more of:
- Scifi
- Fantasy
Projects I enjoy working on:
- Comic books
- Anthologies
- Comic/Book covers
- Splash art for promotions
- Personal Commissions
Skills
Illustration
Comic Art
Book Cover Illustration
Comic Book
Fantasy
Horror
Cover
Cover Illustration
Dark Fantasy
Interior Artist
Lovecraft
Interior Comic Book Art
Software proficiency

Procreate

Photoshop

Illustrator

InDesign
Reel